June 26-29, 2019

4‑H camps provide youth with the chance to meet new people, have fun, and experience the great outdoors. Winnebago County's Summer Camp is a 4-day, 3-night experience for youth in 3rd-8th grades. Campers learn about the natural world, themselves and each other at the Upham Woods Outdoor Learning Center located in Wisconsin Dells (https://fyi.extension.wisc.edu/uphamwoods/).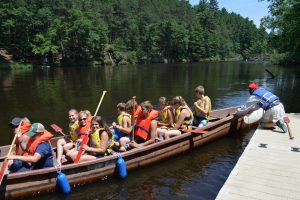 Youth stay in cabins with about 10 campers, 2-3 youth counselors and 1 adult. Camp activities include hiking, canoeing, archery, swimming, nature, crafts, recreation, a low element challenge course, and so much more. Camp activities are planned and run by 20 youth counselors (grades 9-13) with support from 12 adult chaperones, the Winnebago County 4-H Program Coordinator and 3 Upham Woods Naturalists.
The traditions of summer camp and unique qualities of Upham Woods combine for an unforgettable experience!
NEEDED: Adult Camp Chaperones!
Come join us for another year of fun at Upham Woods. Chaperones must be at least 21 years of age and be a certified 4-H Leader (or willing to complete the process to become one). Please submit your application ASAP! 2019 Chaperone Application
---
Join us for 2019's "Mission Impossible" Summer Camp – Complete with Escape Room!

Registration Information:
NEW for 2019! Registration for 4-H Summer Camp is in 4HOnline (https://wi.4honline.com/). 4-H Members will need to log into their existing profile to register for 4-H Summer Camp. Youth who are not currently enrolled in 4-H will need to create a profile in 4HOnline before registering for Summer Camp. A camp waitlist will begin once we reach 90 campers or on June 3. Cabin assignments (10 youth/cabin) are made based on gender/age. Our ability to take youth from the waitlist will depend on openings in specific cabins.
Deadlines/Registration Fees: 
Early Bird DEADLINE March 31 (at midnight): $125/camper
Regular Registration (April 1 – June 3): $175/camper
Camp Costs include transportation to/from Upham Woods, lodging, 3 meals/1snack daily, T-shirts, activity supplies and camp staff. Actual cost of camp is estimated to be $228/youth. The Winnebago County 4-H Leaders' Association covers all costs beyond the $125/$175 charged to campers.
Camp Dates:
CHANGES for 2019! Busses will be leaving Oshkosh at 8:00AM on Wednesday June 26 and returning at NOON on Saturday, June 29. Campers will receive more detailed information closer to camp.
---
 RESOURCES FOR CAMP COUNSELORS
Kill it while its kick'n: Games and Activities for Learning & Fun! (pdf, 552 KB, 28 pages)
Reflection Activities Booklet: A Camp Counselor's Guide to Reflection Activities (pdf, 204 KB, 35 pages)
Ages and Stages of 4-H Youth Development (pdf, 2 MB, 2 pages)
Camp Counselor Handbook (pdf, 6.3 MB, 29 pages)