Already doing your personal or business shopping at Fleet Farm? Use these cards instead of cash/credit to support 4-H.
Need a gift for the farmer, handyman, sportsman or do-it yourselfer? Cards make great gifts for family, friends, co-workers, employees, etc.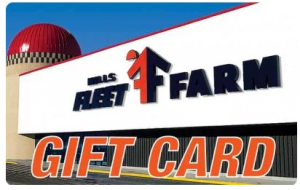 Fleet Farm Gift Cards purchased through the Extension office help to support Winnebago County 4-H as we receive a rebate directly from the retailer for 5-10% of the card's value.
Cards can be used at any Fleet Farm location and you receive the full dollar value of every card you purchase.
Cards in denominations of $25, $50, and $100 are available RIGHT NOW at the Extension office during regular business hours (Monday through Friday, 8:00AM-4:30PM).
Cards can also be ordered in denominations of your choice or in specific quantities by contacting:
Kay Lettau at 920-419-4849
kaylettau@gmail.com