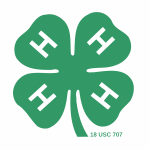 The Winnebago County 4-H Newsletter is published once every two months by the 4-H Program Coordinator of Extension Winnebago County. This newsletter contains information about upcoming events, applications, program changes and so much more.
ALL 4-H members and leaders are notified by email when the Newsletter is published.
4-H families may request a PRINTED copy of the newsletter to be MAILED to them by setting their correspondence preference in 4HOnline to "mail" (4-H families will still receive all email communications, as we send email to everyone regardless of their preference).
Need MAIL or EMAIL sent to multiple parents, caregivers and/or households? No Problem! Contact our office to help get your 4HOnline profile set up to best communicate with your family.
Not enrolled in 4-H, but want to receive a copy of our newsletter? Please contact our office to be added to our mailing list.
---
January – February  2020
Newsletter Inserts
---
November – December  2019
Newsletter Inserts
---
September – October  2019
Newsletter Inserts
All Pizza Sale Info is available on our website.
---
July – August  2019
No Inserts this month. Other Helpful Fair Information:
---
May – June  2019
Newsletter Inserts
---
March – April 2019
No inserts this month!
---
January – February 2019
Newsletter Inserts
Members How-To Form – 2019 MARCH SALE
Member Pizza Order Form – 2019 MARCH SALE
---
October – November 2018
Newsletter Inserts
Member Pizza How-To Form
Member – Pizza Order Form
---
June/July 2018
---
May 2018
---
March – April 2018
4-H Summer Camp Youth Camper Application 2018
---
January – February 2018
---