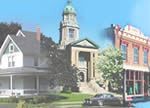 Community Economic Development
Community Economic Development approaches involve the public and the community with government and private sectors to build strong communities, businesses and markets.  It is a multi-faceted approach to community change.   The Community Development Educator provides research, education and facilitation to communities in Winnebago County to meet community economic development challenges.  
Here is a sample of past and current programs.
"Building Communities" and "Revitalizing Wisconsin Downtowns" Educational Webinars on a variety of downtown, sustainability and economic development strategies (2008-2012)
City of Omro downtown organizations re-org process facilitation (2013)
City of Oshkosh downtown business survey (2013)
Menasha Action Council and Menasha Business Group membership survey (2013)
Economic Impact of the Wittman Regional Airport – reports from 2002, 2007 and 2012
Lake Winnebago Anglers generate jobs and dollars for the region (2007)
City of Menasha Community Economic Development Preparedness Index project  (2006)
Link to the UW-Extension Center for Community & Economic Development resources, including programs on:
Community preparedness and resilience
Downtown Revalitalization
Food Systems Development
Tourism
Data and Assessment Resources 
Economic Development Training
Small Business Resources
Small Business  Counseling is provided by UW-Oshkosh Small Business Development Center. UW Oshkosh Small Business Development Center supports economic development and provides business counseling for businesses in the region.  Free counseling is available for people who are already in business, or thinking about starting a business.