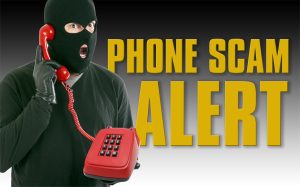 Recently, a citizen alerted the Oshkosh Police Department that they received a phone call from a female stating that their granddaughter was in custody, that the caller was the granddaughter's attorney, and that they needed several thousand dollars cash in order to bond her out. This was a scam known as the Grandparent Scam and unfortunately the citizen lost several thousand dollars after they met this caller and gave her the money in cash. The Grandparent Scam involves a person calling stating that the person's grandchild is in jail or in the hospital and that they need to buy gift cards or send cash to help their family member. If you are asked to purchase gift cards and give the numbers out over the phone, this should be a big red flag that it is a scam.
Scammers try to cloud your judgment by evoking powerful emotions and a sense of urgency. They may try to scare you by threatening you with prison, large fees, or blackmail. They may try to get you excited by telling you you've won a large sum of money or that your debt will be eliminated. Or they may make you feel sad and sympathetic by telling you someone is in urgent need. In all these cases, they will insist that you act immediately.
What can you do to avoid being scammed?
Do not make any decisions in the moment.
Hang up the phone if you are feeling pressured.
Do not share any personal or financial information, like your social security number, checking account information, etc.
Ask for their name and the name of the business or organization.
Ask for additional information to be mailed to you.
Contact the police, your financial institution, and your family.
Remember you are not alone. There are many resources available to help you determine if it is a scam and what to do if you feel you have been a victim. Fraud can also be reported to help protect others. Below are resources to explore to assist you in not becoming a victim of a financial scam.