Testing your soil is the only way to know whether your plants and lawn are getting the correct nutrients they need for optimal growth. Many gardeners blame plant problems on insects or diseases when, oftentimes, the real problem lies in the soil.
Extension Winnebago County is here to help gardeners from all experience levels with soil sample collection and submission. Stop by and collect your sample kit today!
Once you collect the soil samples, send to the lab in Madison for testing. Get your results directly in your inbox! Or, if you prefer, our office can mail it to the lab on your behalf. (There is a fee associated with this service).
Collecting a Soil Sample
1. A soil probe is an ideal tool to gather soil for testing, but a small spade or shovel also works. Soil probes are available for checkout at the Extension office with a $20 deposit. Your deposit will be refunded once the soil probe is returned, or you can apply it to the final cost of your soil sample tests.
2. Use the soil probe/ shovel to collect soil from approximately 10 locations in your yard or garden. Samples should be taken from about 5-7inches deep into the soil. Make sure there is no grass or plant material in your sample.
3. Combine all of the samples into one bucket and mix it thoroughly.
4. Collect 1-2 cups of soil from your bucket and place it in a zip-lock back, or the white sample bag you got in your kit from Extension. This is your final aggregate example that the lab can analyze. The rest of the soil can be returned to the yard/ soil, or added to the compost pile.
Soil Sample Links:
Video Demonstration – University of Illinois Extension
Diagram: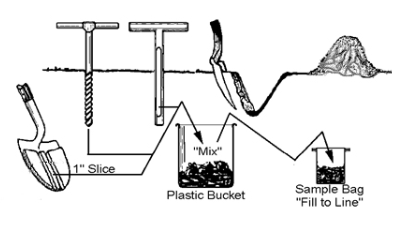 Submitting Your Soil Sample
1. You may mail the sample yourself, or bring it to the Extension office where our staff will mail it for you.
2. Include this submission form and payment method with your sample.
3. If you plan to mail the sample yourself, send it by US Mail, UPS, FedEx, or other delivery system (with payment) to:
Soil & Forage Analysis Lab
4702 University Avenue
Madison, WI 53705
4. You can expect your results within 7-10 business days. However, the wait time depends on the courier's delivery time, the volume of samples the lab receives, and holiday hours.
5. If you need help interpreting your results, email plantadvice@winnebagocountywi.gov, or call (920) 232-1970 to receive expert advice from local Extension Master Gardeners at no cost.
For More Information
The University of Wisconsin Soils Lab is located in Madison. You can reach them at (608) 262-4364 or soil-lab@mailplus.wisc.edu to request the testing kit, which includes sampling instructions, the form you need to submit and bags for mailing the samples.