Extension Staff are primarily working remotely due to COVID-19 and can be reached fastest by email.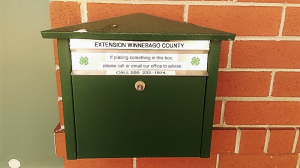 Contact-less DROPBOX for paperwork and payments is available; located next to the Employee Entrance on the northeast side of the building (closest to County Road Y).
Large drop-off/pick-up box is also available next to same entrance above. Please schedule pick-up/drop-off in advance with one of our staff.
Programming Staff

Name
Program Area
Contact Information
Mandi
Dornfeld
Human Development & Relationships Educator
920-232-1979
amanda.dornfeld@wisc.edu
Todd
Wenzel
Human Development & Relationships Educator: Financial Education
920-232-1982
todd.wenzel@wisc.edu
Sandy
Bell
Grandparents Raising Grandchildren Coordinator
920-232-1973
sbell@co.winnebago.wi.us
Dana
Berger
4-H Educator
920-232-1984
Cell: 920-420-0481
dana.berger@wisc.edu
Sarah
Thompson
County 4-H Youth and Science Educator
920-232-1985
sthompson@co.winnebago.wi.us
Mia
Ljung
Community Development Educator
920-470-4645
mia.ljung@wisc.edu
Vacant
Horticulture Educator
920-232-1970
Plant Health Advisors
Volunteers
PlantAdvice@co.winnebago.wi.us
John
Thompson
Agriculture Educator
920-232-1970
john.thompson@wisc.edu

Nutrition Education Programming Staff
(for Winnebago, Waupaca, Outagamie, and Calumet Counties)

Christi
Gabrilska
FoodWIse Coordinator
 715-258-6479
christi.gabrilska@wisc.edu
Hannah
Phillips
FoodWIse Healthy Communities Coordinator
920-832-4761
hannah.phillips@wisc.edu
Kristine
Soper
 Nutrition Educator
920-232-1973 
kristine.soper@wisc.edu
Miranda
Dawson
Nutrition Educator
920-832-4748
miranda.dawson@wisc.edu 

Administrative Staff

Name
Program Area
Contact Information
Chris
Viau
Area Extension Director
(for Calumet, Outagamie, Waupaca, and Winnebago counties

)

715-937-4381
chris.viau@wisc.edu
Amy
Hendrickson
County Administrative Associate
920-232-1973
ahendrickson@co.winnebago.wi.us
Jody
Bezio
County Administrative Associate
 920-232-1974
jbezio@co.winnebago.wi.us
Ashley
Rolph
County Administrative Associate
920-232-1970
arolph@co.winnebago.wi.us
Chad
Cook
Land & Water Outreach Program Manager
(for UW-Madison Division of Extension, Natural Resources Institute)
chad.cook@wisc.edu