NATIONAL 4-H WEEK: OCTOBER 3RD- OCTOBER 9TH
National 4-H Week is coming October 3rd through the 9th.
See what Winnebago County has planned and find your spark here!
Check out our 2021 Key Award winner interviews with WOSH radio for 4-H Week!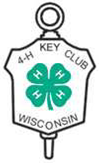 ---
What is 4-H?
The 4-H program begins at the club level. Our 4-H members, parents, and leaders meet monthly to have fun, learn and work together in project groups, club activities, special interest groups and many events.
The 4-H experience offers many opportunities. Summer and winter camps, cross country trips, national science day and participating at the county fair is just some of the events your youth can look forward to in 4-H. There is also a variety of projects that they can learn or expand their knowledge in including: horse, photography, shooting sports, art, communications, theater and
more!
4-H is an informal program though which parents, other adults, and youth can help young people develop confidence, social skills, decision-making abilities, and subject matter knowledge.
4-H is for everybody regardless of their ethnic background, race, creed, or disability.

Why get involved?
Through 4-H, members develop and practice important life skills. Members will:
Make

decisions

and solve problems
Build self-confidence
Accept

responsibility

Have a

good time

 learning in a fun way
Feel a sense of

belonging

by being part of a

4-H

club
Develop

mastery

while learning and practicing skills in areas of interest
Become

independent

 as they are given opportunities to make choices
Have a spirit of

generosity

as

4-H

clubs give back to their communities through service
STAFF
If you have any questions regarding 4-H Youth Development in Winnebago County, please contact:
 

Dana Berger


4-H Program Coordinator
Extension Winnebago County
625 E. County Rd. Y, Suite 600
Oshkosh, WI 54901-8131
Office: 920-232-1984
Cell: 920-420-0481
Fax: 920-232-1967
Email: dana.berger@wisc.edu

Sarah Thompson


4-H Youth & Science Educator
Extension Winnebago County
625 E. County Rd. Y, Suite 600
Oshkosh, WI 54901-8131
Phone: 920-232-1985
Fax: 920-232-1967
Email: sthompson@co.winnebago.wi.us