Stitches of Love Project
Stitches of Love, sponsored by Extension Winnebago County Home and Community Education, was created in January 2002 by Janet Hansen. After conducting research and collecting data from both the American Cancer Society and local hospitals, Janet found there was a significant unmet need in the Fox Valley for headwear for cancer patients. Many cancer centers receive quilts for patients to provide comfort during treatment, but no one was donating hats to help patients, especially women, stay warm and comfortable after the loss of their hair.
Mission Statement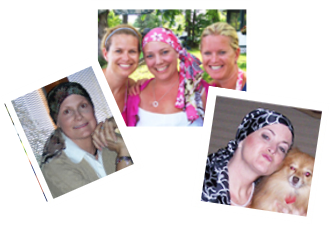 The mission of Stitches of Love is to make headwear, free of charge, for local cancer patients and distribute them through local treatment centers.
Donation Sites
Five regional cancer centers are currently supported:
The ThedaCare Regional Cancer Center in Appleton
The Vince Lombardi Cancer Center at Aurora Medical Center in Oshkosh
Fox Valley Hematology & Oncology in Oshkosh
Fox Valley Hematology & Oncology in Appleton
The St. Agnes Cancer Center in Fond du Lac
In 2015, Stitches of Love made and donated 2,955 hats, thanks to the time and talents of 38 volunteers. These dedicated women devoted nearly 8,000 hours of their time to support the mission of Stitches of Love.
Workshops
Six workshops are held each year: four at the J.P. Coughlin Center in Oshkosh and two at the Calumet County Courthouse in Chilton. During the workshops, fabric hats are cut out and then taken home by volunteers to sew. A number of volunteers also sew, knit, or crochet hats at home.
Revenue/Support
The Extension Winnebago County staff at the J.P. Coughlin Center provide clerical support along with a great facility for the workshops. Revenue comes primarily from the Appleton Medical Center Foundation, donations, and the sale of walker caddies through ThedaCare at Home.
Contact
Lynn Mozingo, Coordinator
(920) 428-6947
mozingoL@uwosh.edu