Are you a Winnebago County elementary classroom educator who wants to bring the science of the life cycle into your classroom in the most amazing and eggciting way?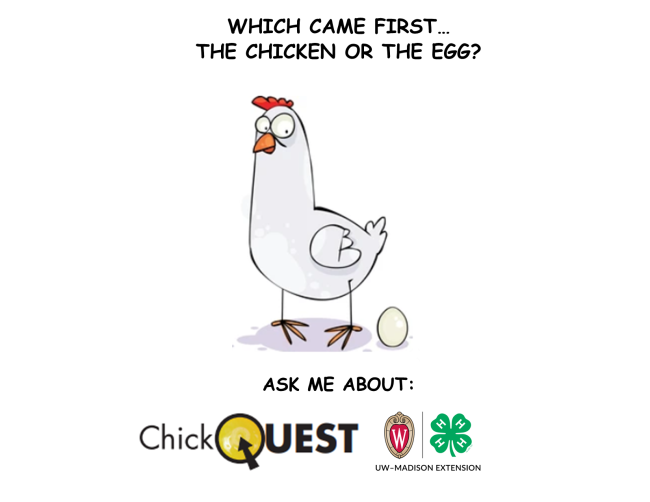 Take your students on a six-week classroom journey through the life cycle of chickens. ChickQuest activities promote unforgettable learning, and you'll receive all the supplies you need to hatch eggs in your class along with a professional 4-H Educator to help you every step of the way!
From monitoring living eggs to observing fluffy chicks, these lively activities pique curiosity, encourage collaboration and communication, and provide young scientists with unforgettable experiences. Students in elementary grades will learn about animal agriculture and egg production. The Winnebago County 4-H Program provides this curriculum, training and supplies, including an incubator to each participating teacher.
This curriculum is connected to Next Generation Science Standards with a focus on elementary grades. STEM Content and Skills include:
keeping a science log book
scientific measurement
experiment design and data collection
science literacy/reading skills
life cycles cx
egg-producing animals
Check out ChickQuest in our local classrooms:

Visit Project Central to view sample pages from the ChickQuest Teacher Guide: A Journey Through the Life Cycle of Chickens and from the ChickQuest Logbook.
Research-based Information about Safe Handling of Chicks
"A risk of contracting Salmonella from chicks is always present. However, the risk can be reduced by avoiding contact with feces from these animals, carefully washing hands with soap and water after handling these animals, and avoiding hand-to-mouth contact." Salmonella and Avian Influenza (from University of Florida)
Healthy Pets, Healthy People Animals in Schools and Daycares (from Centers for Disease Control)
Healthy Pets, Healthy People Educational Materials (from Centers for Disease Control). Scroll down for PDF and Gif versions of an "Always wash your hands after handling poultry" poster in English and Spanish.
Other Documents Related to the Curriculum
Related Web Links