What are projects?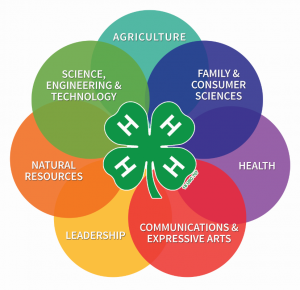 A 4-H project is an area that you want to learn more about during the 4-H year (similar to a hobby). This is what you sign-up for during enrollment in 4HOnline. There are projects on just about any topic, from art to woodworking, from computers to rabbits, from sewing to small engines. After you sign-up for your project(s), you will explore, study, and learn skills related to your project by using 4-H curriculum, attending project training, or participating in project events like 4-H Fun Day.
Another tool to help you with your project learning is the 4-H Record Book which helps you set goals for your project and reflect on your overall project experience at the end of the year. 
In August you also have the opportunity to take work from your project(s) to the Winnebago County Fair to show off what you have learned throughout the year. What you TAKE to the fair is an "exhibit" (i.e. Art is your PROJECT; the picture you painted or clay pot you made are your EXHIBITS). You do not need to exhibit everything you did in your project(s) but are encouraged to pick some of your best accomplishments!
4-H projects in Winnebago County
Club Project Training

: Check with your 4-H Club to see if there are leaders for your specific project area.
County-wide Project Training: Winnebago County 4-H has several committees/volunteers that provide countywide project learning. These groups plan and conduct county-level educational events, activities, and meetings. See "More In This Section" below for info on county-wide project training/workshops.
NEW! Check out some of the Project Work & Activities our 4-H members participated in during 2019-2020.
2020-2021 4-H Enrollment Now Open!
Re-Enrollment Deadline for returning members is November 20
Project Selection Deadline is

January 31

(final project selections must be made for youth who wish to show at the County Fair in August).
New members may join at any time (but cannot show at the County Fair this year if they have not enrolled by January 31).
4-H Enrollment is available online  at:  https://wi.4honline.com
4-H Online 2.0 Family Enrollment Guide
(updated 2020)
4-H Project Resources
Project Curriculum/Literature is available for almost every 4-H Project! These materials can be:

Purchased from the National Shop 4-H Store
Checked-out from the Winnebago County Extension Office "Library" (see "Shop 4-H" for a full catalog of resources available)

State/National 4-H Project Resources:

Visit the Wisconsin 4-H website for project resources (Updated 10/2020)
Extension Publications on a variety of topics (written for adults) are available at: The Learning Store

NEW!

4-H At Home!


Inspiring

 kids and teens to learn, grow, and charge ahead in their lives through critical learning resources accessible to all kids. With COVID-19 disrupting learning for 55 million young people, 4-H has stepped up to bring the traditional 4-H experience inside the home.

Explore the National 4-H At Home Website to receive hundreds of educational activities for kids in topics like STEM, healthy living, and crafting, including step-by-step videos, activity guides, and more.
Visit the Wisconsin 4-H At Home Website for resources that were chosen with busy parents, caregivers, and families in mind. We know there's a lot coming at you all at once, so we took some time to go through a lot of possible activities, resources, and information. We only listed the ones we think are the best, in the current situation.