Get Involved!
Educational Travel Experiences provide opportunities for youth to learn skills and meet new people from beyond the club/county level. Whether you're interested in developing project-related skills, expanding your leadership abilities, exploring civic engagement, learning about the government, discovering national history or becoming involved in 4-H at a state, national or even international level – there's an opportunity for you!  Traveling with and meeting other 4-Hers is a wonderful Educational Experience that you do not want to miss!
---
Funding Assistance
Need help funding one of the amazing opportunities below? The Winnebago County 4-H Leaders' Association provides sponsorships for many of these great opportunities.
Fundraising and/or Payment Plans can also be used to help fund Travel Experiences. Please contact the Winnebago County 4-H Program Coordinator to arrange one of these options.
---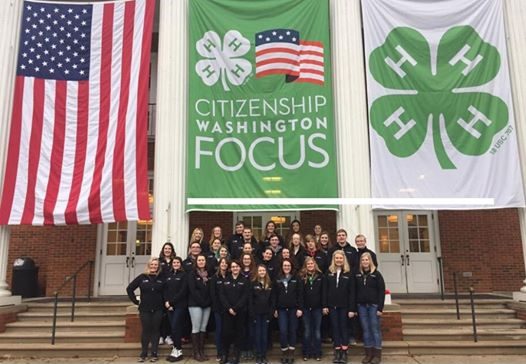 Be a part of Wisconsin 4-H's delegation to the 2021 Presidential Inauguration!
---
Youth will explore, discover and engage in our government's Executive Branch on this five day Citizenship Washington Focus (CWF) educational experience held at the National 4-H Center in Washington D.C., culminating in attending the 2021 Presidential Inauguration!
---
Applications are open June 15-30, 2020
and open to ALL Wisconsin youth who will be in grades 9-13 on January 1, 2021! 
---
State Travel Experiences
Space Camp (Delegates: Grades 6-8, Counselors: Grades 8-10**)

American Spirit Experience (Grades 8-10*)

WI 4-H Youth Conference (Grades 7-10*)

Leadership Washington Focus (LWF) (Grades 6-8*)

Citizen Washington Focus (CWF) (Grades 10-12*)

4-H National Congress  (Grades 10-12**)

4-H National Conference  (Grades 10-12**)
* at time of registration      **at the time of program
Visit the Wisconsin 4-H Educational Travel website for more information…
---
Chaperones
Apply today for an adult advisor position with Wisconsin 4-H!  2020 Applications are now open through February 15, 2020 in 4HOnline. Apply today!
Adult advisors (age 21 and over) travel to many different cities across the United States with youth participants in the programs above to serve as mentors, guides, and support for the youth on the programs. Adults are responsible for the well being of all youth participants and must work as a team to ensure that an experience runs smoothly. You can find out more about being an adult advisor on the Wisconsin 4-H Website: https://fyi.extension.wisc.edu/wi4hedopp/adult-advisors/
---
 Communication Arts
Art Beat (Grades 3-5)

Art Camp (Grades 6-8)

Art Lab (Grades 9-13 & Adults)

State Teams (Drama Company, Art Team, Communication Team) (Grades 9-13)
Visit the Wisconsin 4-H Communication Arts website for more information…
---
 Leadership Opportunities
Winter Leadership Camp (Grades 6-8)
Attention youth leaders in grades 6-8 and adult 4-H volunteers! Don't miss your chance to participate in Winter Leadership Camp 2020! It is always a great weekend full of leadership development and fun! From teambuilding, group facilitating, and goal setting to sledding, night hikes, and campfires, there will be something for everyone! Mark your calendars now for a terrific time…this year's Winter Leadership Camp will be held February 7-9, 2020, at Camp TaPaWingo near Mishicot, WI.Older youth from throughout Northeast Wisconsin will come together at 4-H Winter Leadership camp to work on improving their leadership skills through hands-on, interactive leadership sessions. Youth will gain a better understanding of what it means to be a leader and how to apply being a youth leader in their club, county, and school. Along with leadership learning, youth will have opportunities to participate in a variety of recreational activities that may include sledding/tubing, snowshoeing, crazy games, and other outdoor activities. Adult leader volunteers are needed as chaperones to support youth in learning leadership skills and experiencing the great outdoors.Registration can be found here: Winter Leadership Camp. 

Registration deadline is Monday, January 20, 2020.

However, don't wait to register – the camp fills up fast and you don't want to miss this opportunity! If you have questions on any of the above, contact Kevin Palmer, 4-H Youth Development Educator, at 920-242-5448 or by email at kevin.palmer@wisc.edu.
Fall Forum (Grades 7-13 & Adults)
https://fyi.extension.wisc.edu/wi4hvolunteers/fall-forum/
Fall Forum is an opportunity for youth and adult leaders to attend the statewide training weekend with county and state staff. Planned by a team of youth and adult volunteers from the  Wisconsin 4-H Leaders Council with the support of county and state staff
Wisconsin Leadership Council (WLC) (Grades 9-11 & Adults)
https://fyi.extension.wisc.edu/wi4hvolunteers/wi-4-h-leader-council/
The Wisconsin 4-H Leadership Council (WLC) provides a statewide forum for youth and adult volunteer leaders to discuss ideas and provide input to enhance UW-Extension 4-H Youth Development programs at the state, county and local levels. WLC members:

Serve as leaders and role models for 4-H youth and adults
Advocate for Wisconsin 4-H
Provide input for enhancing the 4-H program
Provide educational opportunities to 4-H members and leaders
Connect the county, regional and state levels of Wisconsin 4-H, as well as the Wisconsin 4-H Foundation
---
Wisconsin 4-H International Programs
Wisconsin 4-H International Programs emphasizes the 4-H values of belonging and understanding through international exchange. In today's ever changing world the skill of global citizenship becomes more and more important all the time. Help the youth in your community build bridges and connect with others from around the world!
Homestay Abroad

Host for One Month

Host for an Academic Year
https://wi4hinternational.org/