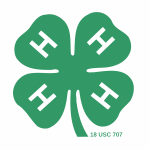 The 4-H program has a long history of record keeping. The focus reflects the importance of this life skill in our daily lives. In 4-H, young people have tracked their activities, events, profits and losses, skill development and learning experiences, and much more using the iconic 4-H Record Book. In addition to record keeping, the 4-H Record Book gives members an opportunity to reflect on their year, measure their achievements and growth, and set goals, and develop plans to meet those goals.
~ California 4-H Youth Development
---
NEW 2023 AWARD ADDITIONS
Youth – Check with your Club Leader for your club's deadline for submitting record book forms. Club Leaders will have until Oct 15 to submit outstanding CLUB record books to the county level for competition.  Record Books will be read by our 4-H County Educators. We look forward to reading your stories!
Standard Award Levels are:
Participation Sticker: All members who submit a record book to their club (traditional, digital, video or the new 4-H EZ Record Form) and that are not forwarded to the county level will receive this award.  Note:  The new 4-H EZ Record Forms are not eligible for advancement to the county-level.
Gold Achievement 4-H Club Work Sticker:  all record books that club leaders nominate for a County Outstanding Award.
Gold 4-H Clover Sticker:  County Outstanding Award
Merit Sticker:  Exemplary!
Cloverbud Sticker:  Received at the county-level to recognize their participation.
We are now adding "Best Of" Awards:
Best Cloverbud Record Book
(either version accepted)
Best Traditional Record Book: Grades 3-5
Best Traditional Record Book: Grades 6-13
Best Digital Record Book: All Grades
Best Video Record Book: All Grades
Best Secretary Record Book
Best Treasurer Record Book
Best Historian Scrap Book
All "Best Of" winners will receive a $25 gift certificate to https://shop4-h.org
4-H EZ Record Form

4-H EZ Record Form
(Fillable PDF)

Traditional Book

Digital Record

Video Record
Fillable PDF Forms WARNING:
If you have not used a fillable PDF before, please test how it works for saving and printing. Fillable PDF's do not work the same as Word documents do.  PDF's typically need to be downloaded to your own computer (and re-opened from there) BEFORE filling them out. Please do a test before you start so that you do not lose all of your information. There are a couple ways to work with PDF's based on your browser/computer…here are some
tips on how to save PDF Forms
to get you started.
---

---
Why Complete a Record Book?
Record Books help you reflect on what you've learned. Reflection is part of the Experiential Learning model used by 4-H to enhance teaching and help reinforce learning.
Basic bookkeeping and record keeping skills are used throughout life—in school, for managing your own finances/household, day-to-day record keeping for many jobs, or for managing a farm or personal business.
This scrapbook of your accomplishments and learning experiences may help you complete school, scholarship or job applications in the future.
Outstanding Record Books are recognized at the club and county levels in the fall each year.
Record Books may also be part of the application process for 4-H Awards. For example, for Key Award and Scholarship applications you will need 3 years of record books available for review.
Record Book Forms and criteria are available on the pages below or you may call the Extension Office (920-232-1974) to request printed copies of these forms.