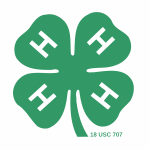 The 4-H program has a long history of record keeping. The focus reflects the importance of this life skill in our daily lives. In 4-H, young people have tracked their activities, events, profits and losses, skill development and learning experiences, and much more using the iconic 4-H Record Book. In addition to record keeping, the 4-H Record Book gives members an opportunity to reflect on their year, measure their achievements and growth, and set goals, and develop plans to meet those goals.
~ California 4-H Youth Development
---
Calling all Winnebago County 4-H Members!
We challenge each and every one of you to complete a "record book" this year!
Record keeping is a life skill that can take many forms, especially as technology continuously evolves.
Looking for creative options to completing a record book?
| | | |
| --- | --- | --- |
| Traditional Record Book | Digital Record Book | Video Record Book |
---

---
Why Complete a Record Book?
Record Books help you reflect on what you've learned. Reflection is part of the Experiential Learning model used by 4-H to enhance teaching and help reinforce learning.
Basic bookkeeping and record keeping skills are used throughout life—in school, for managing your own finances/household, day-to-day record keeping for many jobs, or for managing a farm or personal business.
This scrapbook of your accomplishments and learning experiences may help you complete school, scholarship or job applications in the future.
Outstanding Record Books are recognized at the club and county levels in the fall each year.
Record Books may also be part of the application process for 4-H Awards. For example, for Key Award and Scholarship applications you will need 3 years of record books available for review.
Record Book Forms and criteria are available on the pages below or you may call the Extension Office (920-232-1974) to request printed copies of these forms.