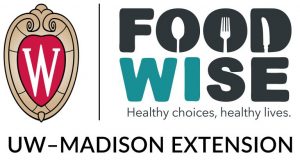 FoodWIse is federally funded by the Supplemental Nutrition Assistance Program-Education (SNAP-Ed) and the Expanded Food and Nutrition Education Program (EFNEP) and serves Wisconsin residents with limited incomes. We seek to empower Wisconsin residents with limited incomes to make healthy choices to achieve healthy lives and reduce health disparities.
What We Do:
FoodWIse employs a combination of evidence-based educational strategies, accompanied by environmental supports, designed to facilitate voluntary adoption of healthy food choices and active lifestyles.

Empower families with limited financial resources to choose healthful diets and become more food secure by spending dollars wisely.
Expose children to new fruits and vegetables and why they are important.
Teach parents how to plan and prepare healthy meals.
Support communities in making the healthy choice, the easy choice where people live, learn, work and play.
2019 Year End Report (Winnebago County) • Download FoodWIse Brochure
Learn More About FoodWIse in Wisconsin
---
Resources:
People around Wisconsin face challenges in getting the food they need. This Food Resource Guide for Winnebago County provides information about public programs, community resources, and food shopping options in Outagamie County to help meet food needs.
---
FoodWIse Staff